Freedom rush collection debut harbour isLAND
SHELLEY MONIQUE ORIGINAL TEXTILES
RESPECT FOR THE GIFT
–
Am I still dreaming in colour? This is a dream that would never go away since childhood in the islands. Always in colour, always in movement, always with vibrancy. I have returned to my natural ability to be guided creatively by raw talent and heavenly gift. I have no classical training to boast about but I know the pure desire and a blessing to trust in divine gifts. This client style is elegant simplicity with room for mood changes just as the shore changes. She's fun, free, funky, fresh, sassy, sexy, cool! This fashion sense is for the client of sun, sand and sea--globally.
Mangra Junkanoo and Red Freedom rush prints
Pineapple fields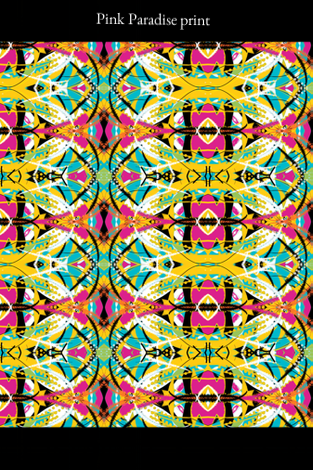 RW2017
FREEDOM RUSH RESORT WEAR collection
This is a long-term vision to invade the Bahamian textiles with a burst of colour inspired by the rich Bahamian Junkanoo festival. I have dreamed of the lightness and movement of textiles rich in depicting more of our celebration of freedom. Thus the birth of Resort Wear 2017 entitled Freedom Rush for the international traveler. Just roll, pack, and go! This is for the bold vivacious traveler who dares to be culturally dipped into the vibrancy of the rich flavours of the Caribbean. Just shake loose in the air and hang for wear. Great textile with little care! Customize your style with a print selection.
Freedom Rush Collection 2017